🤡 Day 1: IT by Stephen King
This is one of our favorite horror stories; an inter-dimensional killer clown, a great group of kids, and evil fortune cookies!
🧟‍♀️ Day 2: 28 Days Later
This movie has everything you want from a zombie film. A guy waking up by himself in a hospital, a strong badass female lead, and lots of running from zombies throwing up blood. We definitely spelt help in the backyard after watching this!
🧛🏻‍♀️ Day 3: What We Do In The Shadows
We love this show because it mixes horror elements with comedy.
Vampire wanna be/slayer Guillermo, the Nadja Doll and everyone's favorite energy-sucking vampire Colin Robinson make this show a standout!
👻 Day 4: Cemetery Boys by Aiden Thomas
Currently, on the long list for the National Book Award, Cemetery Boys is a debut YA novel starring a trans-Latinx protagonist that focuses on family, culture, love, ghosts, and more. Not to mention a kickass best friend with purple and pink hair. Truly groundbreaking - we highly recommend it!
When his cousin Miguel goes missing, Yadriel and his best friend and cousin Maritza set out to try and find him. They stumble across a necklace of St. Jude that is attached to Julian, the ghost of a classmate of theirs who doesn't know how he died. The trio work together to try and find out what happened to Julian and Miguel while Yadriel works to find acceptance from his father and the brujx community that means so much to him.
🐐 Day 5: The VVITCH
One of the best modern Folk-Horror films to date, The VVITCH starts with a bang and then simmers until the climax. There are annoying little siblings, Black Phillip, and definitely a VVITCH or two or three?
👻 Day 6: Scary Stories to Tell in the Dark
This frequently banned book is one of our favorites! The creepy illustrations matched with the stories gave us and kids to come nightmares! Where is my to-o-o-o-o-e?
🦇 Day 7: The Lost Boys
Taking a trip back to the 80s with this classic vampire film - the hair, the motorcycles, the twist! The Two Coreys were at their peak in this one.
🐺 Day 8: The Thing (1982)
From the haunting opening shot, a real among us before among us situation and practical effects that will leave you with nightmares, The Thing is a must watch for horror lovers!
👻 Day 9: The Haunting of Hill House
Despite early suggestions within the show that it would simply scare you, The Haunting of Hill House slowly turns into a spellbinding masterpiece full of sorrow and longing. With some mesmerising acting in particular from Carla Gugino as the mother of the Crain family, the series shows the tragic events played out in Hill House around 20 years prior and the stain they left behind. Every episode oozes emotion, creating a bunch of characters so frail and fickle you can see them in yourself. This is perhaps the greatest strength of the series, as every character is completely unique with strong and subtle thoughts, feelings and actions. This creates extraordinary depth within the show as a whole which is essential to link such wide ranging characters together. This show is a masterpiece and we highly recommend you try it!
🔥 Day 10: Are You Afraid of the Dark?
This Nickelodeon classic appeared during SNICK every Saturday night when we were little. The stage was set by The Midnight Society who'd gather around a campfire in the woods at night (Where were their parents?) to tell a scary story! A few of our favorites episodes were The Tale of the Frozen Ghost, The Tale of Watcher's Woods, and The Tale of the Thirteenth Floor! These stories had us shaking in our PJs... and still do!
🤫 Day 11: A Quiet Place
Co-written and directed by John Krasinki, A Quiet Place starts off with a bang that leaves the viewer feeling unsettled throughout the film. A race of unknown beings has desolated the Earth except for the few that have managed to stay quiet in order to survive. Krasinki and Blunt lead the small stellar cast in this horror movie that has you holding your breath and trying not to make a sound with the family. So much tension!
👻 Day 12: The Turn of the Screw - Henry James
A classic horror story and inspiration for The Haunting of Bly Manor, was written in the late 1800's that mixes a large mansion with creepy kids and two ghosts that stalk a governess, but the reader has to wonder, are the phantoms really there? Only the reader can decide if it is truly a haunting or just manor madness! We covered this book in our current season!
🧟‍♀️ Day 13: Train to Busan
In South Korea, a father and his daughter are trapped on a train when a zombie apocalypse breaks out. An infected passenger spreads the virus on the train and the undead passenger count begins to rise. The tension builds as you wonder who can be trusted and who will ultimately survive the trip. Intense, emotional, and horrific! We highly recommend this movie if you haven't seen it, such a smart spin on a zombie movie!
👀 Day 14: Through the Woods by Emily Carroll
With its black, white, red, and blue color palette this graphic novel tells five incredibly creepy tales. These stories feel like fairy tales with an evil twist. The graphics are gorgeous and the gory page turns are shocking... in the best way possible!
👻 Day 15: Paranormal Activity 3
The third in the franchise, this one takes us back to the start of the lore the series itself is based on. Taking place in the 80s, a mom, her two daughters and their step dad begin to be harassed by the youngest's imaginary friend who in actuality is a demon. The grainy camera footage, home and clothing aesthetic, and Teddy Ruxpin add to the authenticity of the film's time period. Lots of surprising scares right up to the bone cracking ending!
🌀 Day 16: The Twilight Zone
When Rod Serling pops up, especially with a cigarette in hand, you know a twisted fate is waiting for the characters in this black and white classic. A few of our favorites are Nightmare at 20,000 Feet, The Hitch-hiker, and The After Hours - but there are so many more! What are your favorites?
📺 Day 17: Poltergeist
"They're here!!!" and "Don't go into the light!" are famous quotes from this classic 80's horror film. Otherworldly spirits take over a home & kidnap cherubic Carole Ann. A team of paranormal investigators descend to try and get her back, and just when you think the movie is over the family's fight continues.
🐦 Day 18: Bird Box
Written by Josh Malerman, this horror novel tells the story of Boy, Girl, and their mother Malorie who are the only ones still alive in the homestead they created. There are things outside the house, that when looked at, make the viewer go insane and take their own life. Malorie knows that the only way for her and her children to survive is to travel on the river to help - blindfolded.
🕵️‍♂️ Day 19: Unsolved Mysteries
The theme song will haunt your dreams and the stories will leave your waking hours uneasy. Both the original series and the new one on Netflix bring mysteries from all parts of the life's real horrors. Don't forget that these stories don't have a happy ending because they have no resolution at all!
🌱 Day 20: Swamp Thing
Alan Moore's Swamp Thing stories from the mid-1980s do not exploit our fear of the Other, but instead force us to face the dark, downright nasty underpinnings of our own modern world, the frailty and absurdity of our own bodies. These are psychological, often philosophical horror stories, sharp and subversive, lyrical and hypnotic, brought to life by artists Steve Bissette and John Totleben in wonderfully creepy fashion.
🙏 Day 21: The Conjuring
The Perron Family discovers a boarded-up basement in their new Rhode Island home during a game of hide and clap. When demonic spirits start to participate in the children's game the spine-tingling infestation takes hold of the family. The movie, based on a true story, introduces audiences to famous paranormal investigators Ed and Lorraine Warren who join the Perron's in their quest to remove the evil from the home. It's a spooky story starring an incredible cast!
👽 Day 22: Alien
A face impregnating, chest busting creature stalks the crew of the Nostromo as they make their way back to Earth after a space mining mission. Ripley must outsmart the double mouthed beast in order to save herself and the best ginger cat, Jonesy. Grab your flame thrower and be ready for alien jump scares!
🌸 Day 23: Midsommar
Don't let the light & beautiful scenery fool you. Midsommar's emotional and psychological contours of trauma, loss & abandonment are explored so ruthlessly that basic bloodcurdling shocks seem almost a relief by comparison. All hail the May Queen!
7️⃣ Day 24: The Ring
"Seven days," the voice whispers on the phone immediately after you've watched the tape. You've been sentenced - now you wait. When a journalist's niece dies mysterious she investigates the death, and uncovers the mystery of a tortured young girl and the VHS that has a been released into the world. Before you die you see the ring.
🧟‍♂️ Day 25: World War Z
Tasked with finding patient zero, a former UN field agent must travel the world during a zombie apocalypse. His family's lives and the fate of the world hang in the balance as he sees the infection spread. Also the piles and piles and piles of zombies...
🧛🏼‍♂️ Day 26: Fright Night
Charlie knows his new neighbor is a vampire, but no one will believe him. Now all those who are close to him are in danger. For help, he turns to a local vampire show host to help him kill the monster next door! The 80's fashion is great, but the practical special effects are even better!
🧙‍♀️ Day 27: Hocus Pocus
When Max foolishly resurrects the Sanderson Sisters he must work with his little sister, his crush, and Thackery Binx the cat to trap the witches once again! This is a Halloween favorite for ghouls of all ages. With Bette Midler at the helm of the wicked trio you'll definitely fall under this movie's spell!
🎈 Day 28: The Sixth Sense
Dr. Malcolm Crowe finds himself trying to carry on in his day to day life after a home invasion of a former patient. He meets Cole who shares that he has a secret that is scaring him - he sees dead people. The pair work together to help Cole embrace this extra sense which then forces Malcolm to come to terms with his (TWIST) afterlife.
🔪 Day 29: Psycho
Considered one of the best horror classics, this black and white Hitchcock thriller is one of the most tense movies ever. What starts as a film about a bank heist quickly turns to horror when our main protagonist stops at the Bates Motel. Not only does it give us some of the most famous scenes, but a sound effect the world will never forget - REET REET REET REET!
🔨 Day 30: Misery
Sometimes meeting your biggest fan isn't a good thing. While driving cross-country, author Paul Sheldon gets into an accident in Colorado. When he wakes up he is bed ridden, and is being taken care of by a lover of his works, Annie. After reading his newest manuscript Annie shows that she really puts the fan in fanatic. Hide your hammers. You better watch this cackadoodie movie!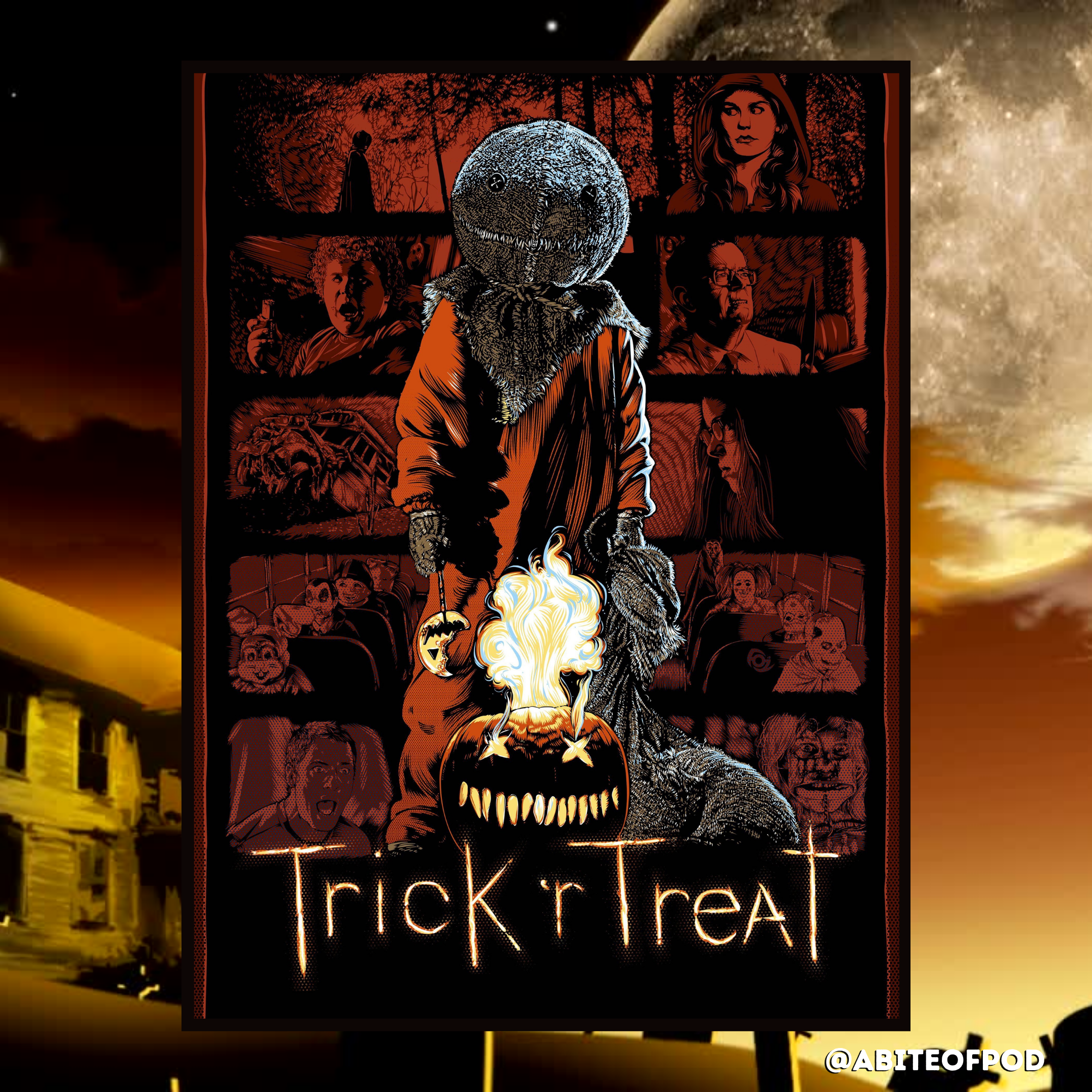 🎃 Day 31: Trick 'r Treat
During All Hallows Eve four groups of people all have their own unique, yet terrifying story to tell intermingled into one spooky package. This instant cult classic has everything we love about Halloween - ghosts, werewolves, tricks, blood and Sam! This movie will captivate you and maybe even bring back the spirit of the holiday for you!