After the highly anticipated live-action debut of Ahsoka Tano (Rosario Dawson) in Chapter 13: The Jedi, Mando and Grogu were tasked with going to Tython to seek out the Seeing Stone to find the little one a mentor in the Force. Mando and Grogu made it to Tython in Chapter 14: The Tragedy (R.I.P. Razor Crest) where Grogu connected with the Force and reached out...but to who?

Here is our list of the top candidates that could answer our favorite green baby's call in The Mandalorian.
Mace Windu - Samuel L. Jackson
Lucasfilm
It seems far-fetched (especially after Darth Sidious/Palpatine sent him flying out the window) but many fans took to social media to theorize Mace Windu could still be out there...somewhere.
Cal Kestis 
Lucasfilm
From the video game Jedi: Fallen Order, we know Cal Kestis survived Order 66. But did he survive past the events of Return of the Jedi? If he did survive, he'd be in his 40s now. He would have no problem training Grogu. Plus we could get BD-1!
Ezra Bridger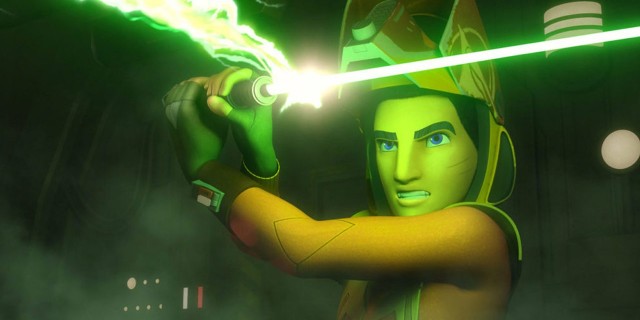 Lucasfilm
As we found out in Chapter 13: The Jedi, Ahsoka is looking for Grand Admiral Thrawn. This suggests that he is back from the unknown, but would also mean Ezra Bridger is back as well...right?! He would be our top pick for a few reasons: The Mandalorian producer Dave Filoni created the character in Rebels, just like Kal he would be old enough to have mastered the Force and could train Grogu, and finally, it would give answers to so many questions we have from Rebels. Rahul Kohli (The Haunting of Bly Manor) seems to be a fan-cast favorite and we would have to agree!
Luke Skywalker
Lucasfilm
A de-aged Mark Hamil play Luke Skywalker (or maybe Sebastian Stan?) making an appearance in The Mandalorian would turn a lot of heads. At this point in time, he is considered to be the only surviving Jedi (according to Master Yoda) and would be making his way through the Galaxy to find Jedi artifacts. Could Grogu be the first preliminary student of the Jedi Academy?
Quinlan Vos
Lucasfilm
Probably one of the more complicated Force users out there, Vos has used not just the light side but also the dark side. On top of that, he has the ability of psychometry, which is a fancy way of saying he can sense memories from objects people have handled. Imagine seeing this in The Mandalorian?! With his different views of the Force and knowing that the Jedi need to change, he might be the perfect fit to train spunky Grogu.
Ahsoka Tano - Rosario Dawson
Lucasfilm
We know, we know. Ahsoka was the one that sent Mando and Grogu to Tython to seek someone to mentor the little one. What if she has a change of heart? Since she is looking for Thrawn chances are Mando and Ahsoka might meet again! We just want more Ahsoka..is that so wrong??
To hear all of our thoughts and recaps of this season of The Mandalorian, subscribe wherever you get your podcasts! A Bite Of Podcast
Featured Image: Lucasfilm